42.6°F
96%
CBI:

-2
Chandler Burning Index Description
Live FWI: 0.6
Live FWI10: 0.8
Updated
:
5/19/19
9:57am
Welcome
Temperature:

42.7°F

1.60°F/hr
Humidity:

96%
Dew Point:

41.6°F
Wind:

0 mph
Wind Gust:

0 mph
Pressure:

29.800 inHg

Rising
Rain Today:

Today's Rain: 0.76 in
Sunrise:

5:45am

, Sunset:

8:11pm
UV-index:

0.9

Low
Fire locations are based on data provided by the National Interagency Coordination Center and are subject to change.
Move your mouse over the fire indicators to see additional information.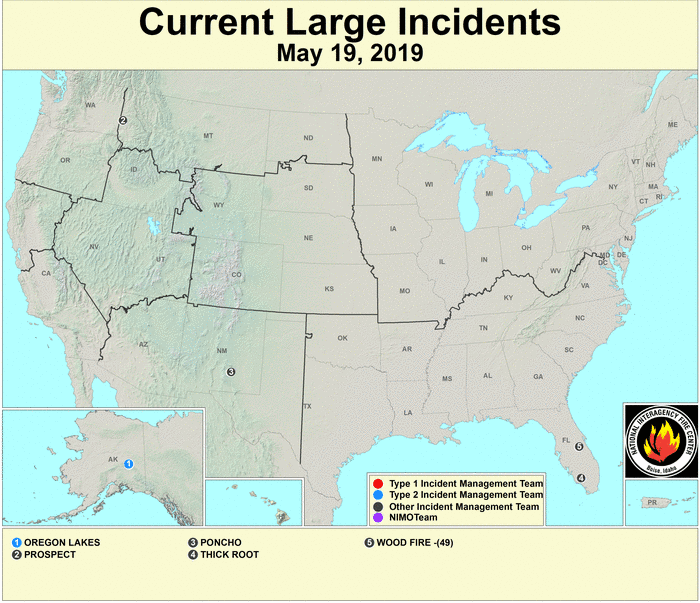 | | | |
| --- | --- | --- |
| Today's Outlook | Tomorrow's Outlook | Day 3-8 Outlook |
| | | |
| Month 1 Outlook | Month 2 Outlook | Month 3 Outlook |
Fire Weather Warnings, and Watches
Temperature, Humidity and Wind
| | | |
| --- | --- | --- |
| Temperature Maps | Humidity Maps | Wind Maps |
Fire Information - National Fire News
National Preparedness Level Updated October 4 at 12 pm MDT (on a scale from 1 to 5)
May 17, 2019
Fire activity remained minimal across most of the United States. Two new large fires were reported, one in Florida and one in New Mexico. Firefighters continue to make progress on the Oregon Lakes fire in Alaska and the Thick Root fire in Florida.

National Weather: The dramatic pattern change across the West continues entering the forecast period as the unseasonably cool and wet low pressure system moves into the northern Great Basin Friday and allows for rain to continue falling across the northwestern quarter of the country. To the south, pockets of critical fire weather conditions are expected as a breezy, dry, but cooler than average westerly flow continues. A second period of cool and wet conditions begins Saturday as an even cooler system approaches the coast of California and Oregon. Rain and mountain snow is expected on a broader scale through Sunday night in the higher elevations of northern California, Oregon, Nevada, and Utah. Some lower elevations across extreme western Oregon could see some accumulating snowfall briefly Sunday night as the system begins to move southeast. On Monday, the strong system will begin to warm as it moves toward the Four Corners. High pressure will briefly move on shore into California and southwestern Oregon and will allow for some warming to occur. Critical fire weather conditions will again develop across portions of the Southwest as winds increase and as humidity levels remain dry. A third strong system is expected to move into the Pacific Northwest and northern California Tuesday night and Wednesday bringing more rain and mountain snow. This system will split into two with both systems stalling out. One will be centered over Montana and will take the majority of the moisture and cold air with it, and the other will take up residence over the Southwest and will be mostly dry and windy on its eastern flanks. In Alaska, the convective southerly flow will gradually transition briefly to a warm and dry pattern across the Interior as high pressure builds in from the Yukon Territory. However, the convective pattern will resume mid-week as the ridge drifts eastward and weakens.
Local Weather: Sunday, May 19, 2019 - 3:30am PDT
A weather system will continue showers, scattered thunderstorms and mountain snow across the region today. Precipitation chances continue this week with temperatures remaining below average.
[ More ]
---
Experimental Hourly Fire Danger
Entire California | Northern California | Central California | Southern California
---
Lightning Ignited Fires
National Interagency Fire Center statistics show that in 2002-2006, an average of 12,000 (16%) of the wildland fires were started by lightning per year. These fires burned an average of 5.2 million acres per year.

Two-thirds of lightning fires occur June-August. lightning fires peak in the late afternoon and early evening. Three-fifths (61%) of all fires started by lightning occurred between 2:00 and 10:00 p.m.

55% of lightning fires occur outdoors, and 41% occur in structures. Deaths and injuries occur mostly in structures (89% and 86%, respectively).

Because most lightning fires occur outdoors, the most prominent form of material ignited is "growing living form," which includes trees, brush, and grass. Materials found on residential structures that are commonly ignited include roofs, sidewalls, and framing. Electrical wiring is another material often ignited, as the electrical current in lightning is drawn to electrical wires.

Civilians suffer more injuries than fatalities in lightning fires each year. Most casualties result from lightning structure fires rather than outside or other types of lightning fires. 89% of lightning fire civilian fatalities and 86% of injuries occur in structure fires.

Current Lightning Map (click to enlarge)
Lightning Probability Forecast Maps
| | |
| --- | --- |
| (click to enlarge) | (click to enlarge) |
Lightning Ignition Efficiency
Lightning fires are started by strikes to ground that have a component called a continuing current. All positive discharges have a continuing current, and about 20% of negative discharges have one. Ignition depends on the duration of the current and the kind of fuel the lightning hits. Ignition in fuels with long and medium length needle cast, such as Ponderosa pine and Lodgepole pine, depend on the fuel moisture. Ignitions in short- needled species, such as Douglas fir depend far more on the depth of the duff layer than on the moisture. Spread of the fire after ignition usually depends on fuel moisture in all cases.

The ignition efficiency on a 1 km pixel is given on a per discharge basis. That is, if the efficiency is high, then about 9 discharges will result in one ignition; if the efficiency is extreme, about 5 or fewer discharges will result in an ignition. The ratio of positive and negative discharges is built into the calculation. (Latham and Schlieter 1989) document the algorithm.

The fuel type and depth are conversions of the 1 km resolution current cover type (Hardy and others 1999) for this specific calculation. The moisture input is the 100-hr dead fuel moisture.

August 2002 - The lightning ignition efficiency algorithm has been corrected due to discovery of an error. The resulting maps reflect higher lightning efficiency than previously.

Current Lightning Efficiency Map
---
Haines Index (Wildfire Potential)
Haines (1988) developed the Lower Atmosphere Stability Index, or Haines Index, for fire weather use. It is used to indicate the potential for wildfire growth by measuring the stability and dryness of the air over a fire. It is calculated by combining the stability and moisture content of the lower atmosphere into a number that correlates well with large fire growth. The stability term is determined by the temperature difference between two atmospheric layers; the moisture term is determined by the temperature and dew point difference. This index has been shown to be correlated with large fire growth on initiating and existing fires where surface winds do not dominate fire behavior.

Haines Index is computed from the morning (12Z) soundings from RAOB stations across North America.

The Haines Index can range between 2 and 6. The drier and more unstable the lower atmosphere is, the higher the index.

2 : Very Low Potential -- (Moist Stable Lower Atmosphere)
3 : Very Low Potential
4 : Low Potential
5 : Moderate Potential
6 : High Potential ------ (Dry Unstable Lower Atmosphere)

Current Haines Index Map

Fire Danger Maps
Each day during the fire season, national maps of selected fire weather and fire danger components of the National Fire Danger Rating System are produced by the Wildland Fire Assessment System (WFAS-MAPS), located at the USDA Forest Service Rocky Mountain Research Station in Missoula, Montana.

Current Observed Fire Danger Map

Current Forecast Fire Danger Map

Current Observed Relative Humidity

Current Observed Dew Point Levels

Current Observed Temperature

Forcast Wind Speed

---
Keetch-Byram Drought Index
Keetch and Byram (1968) designed a drought index specifically for fire potential assessment. It is a number representing the net effect of evapotranspiration and precipitation in producing cumulative moisture deficiency in deep duff and upper soil layers. It is a continuous index, relating to the flammability of organic material in the ground.

The KBDI attempts to measure the amount of precipitation necessary to return the soil to full field capacity.

It is a closed system ranging from 0 to 800 units and represents a moisture regime from 0 to 8 inches of water through the soil layer. At 8 inches of water, the KBDI assumes saturation. Zero is the point of no moisture deficiency and 800 is the maximum drought that is possible. At any point along the scale, the index number indicates the amount of net rainfall that is required to reduce the index to zero, or saturation.

The inputs for KBDI are weather station latitude, mean annual precipitation, maximum dry bulb temperature, and the last 24 hours of rainfall. Reduction in drought occurs only when rainfall exceeds 0.20 inch (called net rainfall). The computational steps involve reducing the drought index by the net rain amount and increasing the drought index by a drought factor.

Current - Keetch-Byram Drought Index


KBDI = 0 - 200: Soil moisture and large class fuel moistures are high and do not contribute much to fire intensity. Typical of spring dormant season following winter precipitation.
KBDI = 200 - 400: Typical of late spring, early growing season. Lower litter and duff layers are drying and beginning to contribute to fire intensity.
KBDI = 400 - 600: Typical of late summer, early fall. Lower litter and duff layers actively contribute to fire intensity and will burn actively.
KBDI = 600 - 800: Often associated with more severe drought with increased wildfire occurrence. Intense, deep burning fires with significant downwind spotting can be expected. Live fuels can also be expected to burn actively at these levels.
---
Information courtesy of ...


Local Fire Links

powered by Cumulus v1.9.3 (1059)
Ambient Weather VWS v14.00
Top
Contact
Website Map
Copyright © 2007 - 2019 Foresthillweather.com
Never base important decisions on this or any weather information obtained from the Internet